Current Location : Home > Metal Processing Machines
HVAC Duct Machines
Wire Bending Machines
Bra Making Machines
Tube/Pipe Machines
Tank Machines
Metal Processing Machines
Motor Making Machines
Welding Machines
Battery Machines
Metal Spinning & Flanging Mach
Textile Machine
Packing & Wrapping Machines
Heat Exchange Machines
Other Machinery
CNC Turret Punch Press Tool Grinding Machine
Description of CNC turret punch press tool grinding machine:
This machine is specially designed and produced for grinding punching tools used in CNC turret punch press. Max. grinding diameter is
150mm
and the rotating worktable is inclinable to be 0-15 degree which is for grinding rooftop tools.
New improved AUTOMATIC TOOL SETTING function makes tool grinding much simpler! Similar to Japanese tool clamping method!
The dual-alleyway water cooling system and high-grade grinding wheel prevent tools from burning and so raise the life of tools.
Both top and bottom tools can be grinded by this special machine.
Comparation to traditional surface grinding machine:
-- Convenient and fast fixing tools: since the top punching tools are long and they are not easy to be fixed onto normal surface grinding machine
-- Small occupying area: can be closed to the turret punching machine. If you don't have spare tools, this is most important.
-- High grinding precision: Axis of grinding wheel is designed to be in the same level as that of the working surface.
-- Simple & convenient operation: Grinding measure can be preset and automatically PLC controlled
-- Special boron carbide grinding wheel, long life and more smooth & clean grinding results (same to Japanese one)

Main features of new updated CNC turret punch press tool grinding machine:
-- Automatic tool setting: when grinding wheel goes down and close to workpiece (tool), it can sense the workpiece. As soon as grinding wheel touch workpiece, cooling system starts, NC controller reset and calculate grinding stroke from this point and thus assure grinding accuracy. During grinding, grinding wheel keeps contacting with workpiece and keeps constant pressure!
-- Full welded frame: assuring stability of machine body
-- Double linear guides: assuring stability of motor up & down
-- Fine milled working surface: assuring verticality and concentricity
-- Precious screw rod: assuring high precision grinding feed rate
-- Inner cooling system: direct inner cooling, reduce annealing
-- Mitsubishi PLC control: safe & reliable
-- Servo motor drive: stable and reliable
-- Stainless steel cover: better looking, no rust
-- Touch screen operation: simple and convenient
-- Rough grinding precision: 0.005mm; Fine grinding precision 0.001mm!

Main technical data of CNC turret punch press tool grinding machine:
| | | |
| --- | --- | --- |
| No. | Item | Parameter |
| 1 | Grinding precision | ±0.05mm |
| 2 | Grinding wheel | boron carbide |
| 3 | Max. tool diameter | 150mm |
| 4 | Max. tool height | 250mm |
| 5 | Min. grinding measure setting | 0.001mm |
| 6 | Max. feeding speed | 900mm/min |
| 7 | Min. feeding speed | 0.015mm/s |
| 8 | PLC | Mitsubishi from Japan |
| 9 | Motor for main spindle | 2.2kW, 3600rpm |
| 10 | Motor for rotary worktable | 0.375kW, 1800rpm |
| 11 | Motor for cooling water | 0.125kW, 1800rpm |
| 12 | Electric power source | AC 380/400V, 50Hz/60Hz |
| 13 | Dimension | 600 x 700 x 1650mm |
| 14 | Weight | 600kg |
HMI of CNC turret punch press tool grinding machine: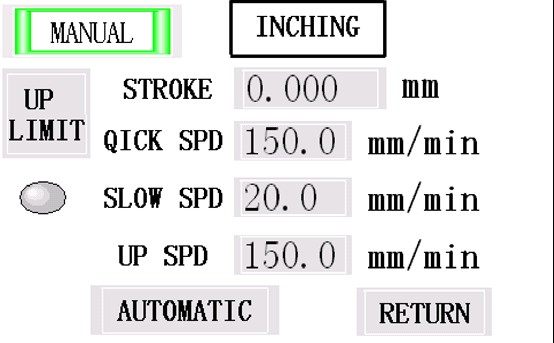 Special tool clamps of CNC turret punch press tool grinding machine:
Typical tools can be grinded by CNC turret punch press tool grinding machine:

Product display