Current Location : Home > Heat Exchange Machines
HVAC Duct Machines
Wire Bending Machines
Bra Making Machines
Tube/Pipe Machines
Tank Machines
Metal Processing Machines
Motor Making Machines
Welding Machines
Battery Machines
Metal Spinning & Flanging Mach
Textile Machine
Packing & Wrapping Machines
Heat Exchange Machines
Other Machinery
H Gilled Boiler Fin Tube Welding Machine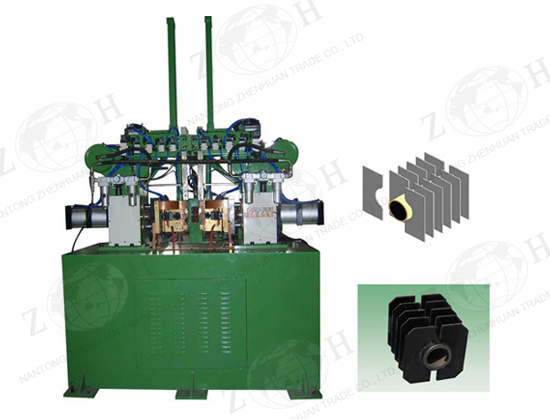 Description of H gilled fin tube welding machine:
This welding machine is special designed for producing H-gilled fin tubes, both single-tube and double-tube, used in boilers.
This welding machine is comprised of pushing trolley, pneumatic system, welding head and supporting racks.
This welding machine is PLC control, semi-automatic, manually load steel pipes and unload fin tubes, manually load fins to fin-hopper, hopper automatically feed fins to welding head.
The fin welding pitch and length can be pre-set in PLC. And the welding pitch can be varied on the same fin tube.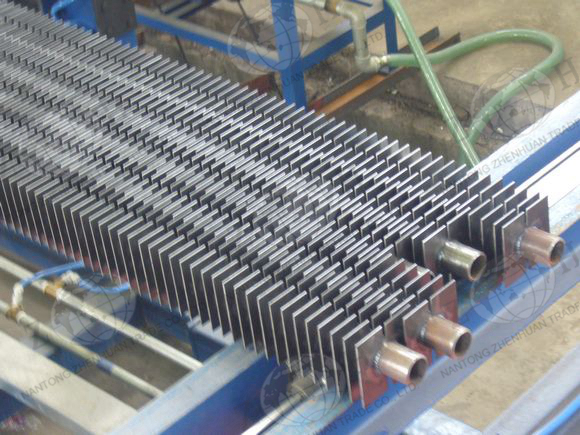 Capacity of H gilled boiler fin tube welding machine:
Item

Data

Suitable H gilled fin tube length

1-15m

Suitable H gilled fin thickness

2~3mm

Suitable base steel pipe diameter

19~51mm

Suitable material

Base tube

Carbon steel

Carbon steel

Stainless steel

Fin

Carbon steel

Low-carbon Steel alloy

Stainless steel
Main technical data of H gilled boiler fin tube welding machine:
| | |
| --- | --- |
| Item | Data |
| Welding power source | Intermediate-frequency inverter, 160kVA x 3 |
| Welding transformer cooling method | Compulsive water cooling |
| Silicon rectifying diode | ABB from Swiss, 12 pieces |
| Active welding electrodes | Material Be-Co-Cu |
| Electrodes pressure | 2500N |
| Pneumatic cylinder for pressing & positioning | Airtec from Taiwan |
| Welding section equipped with annealing function | Annealing technological period is adjustable |
| Welding speed | < 4s @38.1mm base tube & 3mm fin |
| Welding strength | >50MPa or base tube itself lanciated |
| Width of welding seam | More than fin thickness |
| Welded fin full length tolerance | +/-1mm |
| Welded fin section length tolerance | +/-0.5mm |
| Fin pitch tolerance | +/-0.1mm |
| Verticality between fin and base tube | +/- 1 degree |
| Height difference between fins in one pair | +/-0.2mm |
| Center distance between two tubes | +/-0.2mm (for twin-tube) |
Clear photo of H gilled boil square fin tube:
Product display