Current Location : Home > Heat Exchange Machines
HVAC Duct Machines
Wire Bending Machines
Bra Making Machines
Tube/Pipe Machines
Tank Machines
Metal Processing Machines
Motor Making Machines
Welding Machines
Battery Machines
Metal Spinning & Flanging Mach
Textile Machine
Packing & Wrapping Machines
Heat Exchange Machines
Other Machinery
Condenser Header Pipe Punching Machine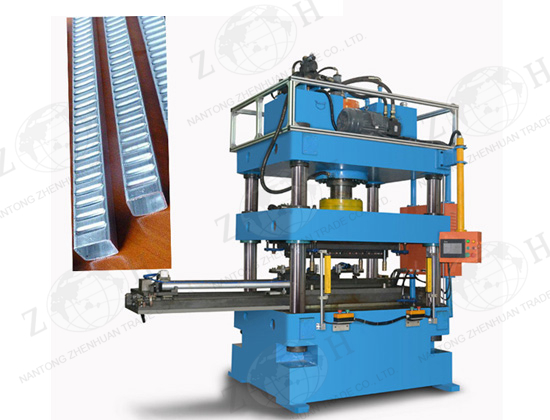 Description of condenser header pipe punching machine:
Condenser header pipe machine is also called as header tube punching machine, header pipe making machine, header pipe piercing machine, specially designed for producing condenser header pipes to be used in PF condensers and evaporators.
Main power of this machine is hydraulic and pneumatic, assisted by spraying lubricate. It is four-guide structure, simple and convenient operation & maintenance. By changing different piercing dies quickly, different header pipes can be produced.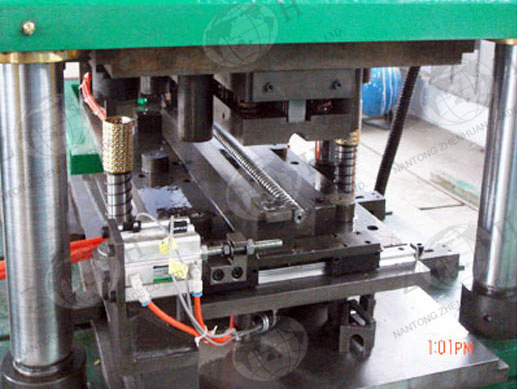 The hydraulic system adopts big-flow plug-in valves, high speed, stable running.
The machine is PLC control, digital displaying; manual loading, auto piercing and unloading.
Equipped with light curtain protection system, operation is very safe.

Main technical data of condenser header pipe machine:
| | |
| --- | --- |
| Item | Data |
| Machine code | JLG-1 (/JLG-2) |
| Max. working force | 65T (/100T) |
| Pipe quantity can be produced one time | One (/Two) |
| Suitable material | Aluminum or copper |
| Suitable pipe diameter and wall thickness | Φ(20~50)mm x (1.0~1.5)mm |
| Suitable pipe effective length | 200~650mm |
| Pierced slot width and tolerance | 1.0~3 ± 0.03 mm |
| Pierced slot length and tolerance | 16~36 ± 0.03mm |
| Center distance between slots and tolerance | 5~12 ± 0.05mm |
| Production speed | About 20 seconds per pipe |
| Die changing speed | About 30 minutes |
| Hydraulic pressure | 8~21MPa |
| Pneumatic pressure | 0.5~0.8MPa |
| Hydraulic oil | ISO VG32 for winter; ISO VG46 for Summer |
| Lubricant oil | ISO VG22-32 |
| Total motor power | 11.5kW |
| Machine dimension | 2250 x 2080 x 2480mm |
| Machine weight | 4T / 6T |
Photos of aluminum condenser header pipes: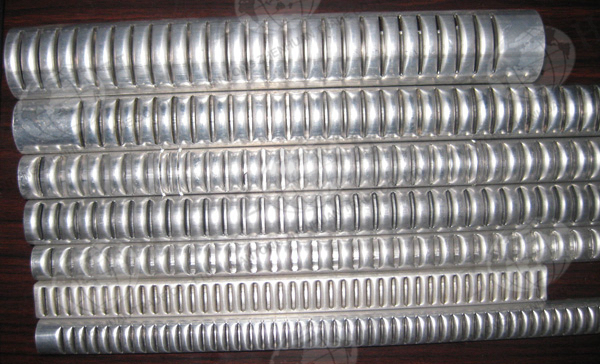 Product display