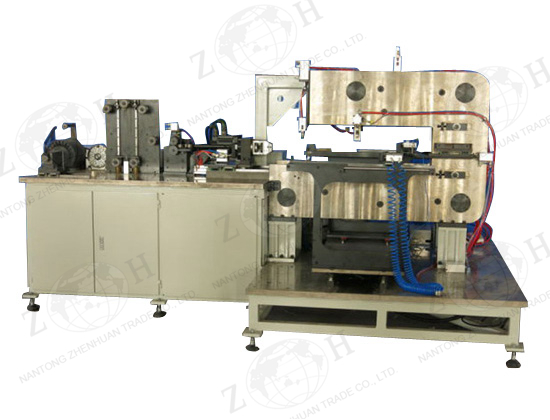 I Description of radiator / condenser core wire bundling machine
This machine is specially designed for bundling radiator & condenser cores automatically.
This machine adopts servo motor feeding steel wire, mechanical clamp clamping wire and servo motor reversing wire to tighten.
The machine is PLC control, HMI operation. There is only manually loading blank cores onto movable table and unloading bundled cores from movable table. All other actions will be automatically finished.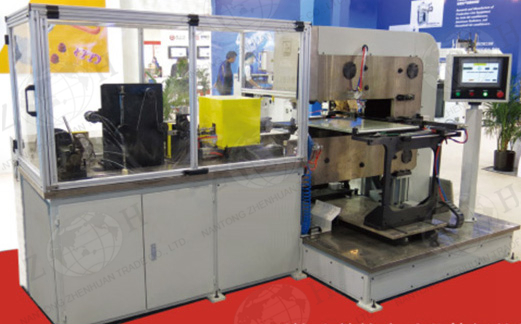 II Main technical data
| | | |
| --- | --- | --- |
| No. | Item | Data |
| 1 | Applicable cores | Parallel-flow cores |
| 2 | Applicable core size | 900 x 600 x 80mm |
| 3 | Min. distance from wire to core edge | 60mm |
| 4 | Bundling speed (average) | 15 seconds per bundle |
| 5 | Power supply | 380V, 3phase, 50Hz (or customized) |
| 6 | Total motor power | 12kW |
| 7 | Air pressure | 0.6~0.8MPa |
III Main buildup
Steel wire pay-off device, with magnetic brake for keeping tension
- Steel wire accumulating device, with a linear potentiometer for controlling magnetic brake
- Steel wire feeding & rewinding device, servo motor drive
- Steel wire straightening device
- Movable worktable, servo motor driving, auto positioning
- C shape wire transporting device, transporting steel wire to bundle core
- Steel wire positioning device (for positioning tying point)
- Tying device
- Machine body
- PLC control system