Current Location : Home > Wire Bending Machines
HVAC Duct Machines
Wire Bending Machines
Bra Making Machines
Tube/Pipe Machines
Tank Machines
Metal Processing Machines
Motor Making Machines
Welding Machines
Battery Machines
Metal Spinning & Flanging Mach
Textile Machine
Packing & Wrapping Machines
Heat Exchange Machines
Other Machinery
Wire Frame Bending Machine
I Description of wire frame bending machine:
This machine adopts pneumatic as power, bending wires into different frame products. There are four bending heads, position adjustable for different frame product size. Each bending head is separate controlled and bending angle is also adjustable.
Four angles one time forming, simple operation only by foot switch.
There are two kinds machines, WKJ-A can only bend 90º angles while WKJ-B can bend any angles max. 180º.
WKJ-A

WKJ-B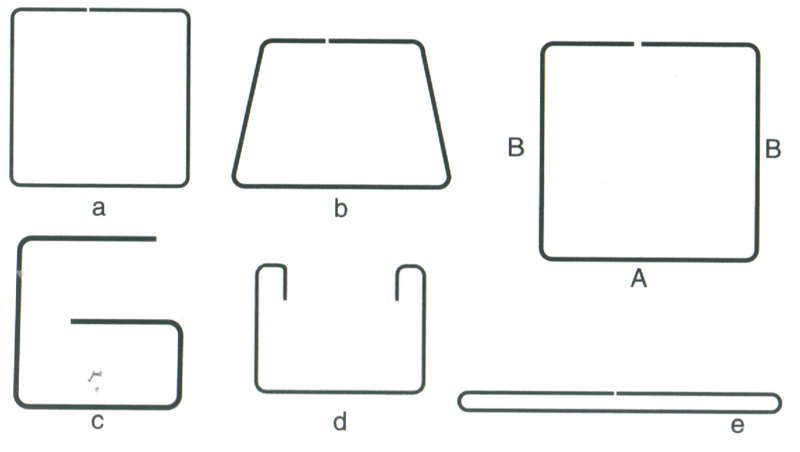 Wire Frame Sketchs
Main technical data of wire frame bending machine:
Item
WKJ-AI
WKJ-AII
WKJ-AIII
WKJ-B

Suitable frame product

ac

ac

ac

abcde

Suitable frame dimension (mm)

A

90-1160

70-1160

58-1192

190-1160

B

170-700

150-720

130-740

210-670

Suitable A+B+B size (mm)

Less than 1500mm

Suitable wire diameter and max. qty. bent together

2mm

11 pcs

9 pcs

8 pcs

11 pcs

3mm

7-8 pcs

6 pcs

5 pcs

7-8 pcs

4mm

6 pcs

4 pcs

3 pcs

6 pcs

5mm

4 pcs

3 pcs

2 pcs

4 pcs

6mm

4 pcs

3 pcs

1 pc

4 pcs

7mm

3 pcs

2 pcs

-

3 pcs

8mm

2 pcs

1 pc

-

2 pcs

9mm

1 pc

1 pc

-

1 pc

10mm

1 pc

1 pc

-

1 pc

Suitable radius of U bend

-

R5-12.5

Machine dimension (mm)

2100 x 1350 x 750

2100x1700x750

Machine weight (kg)

300

350
Photos of sample products made by wire bending machine:
Product display