Current Location : Home > Welding Machines
HVAC Duct Machines
Wire Bending Machines
Bra Making Machines
Tube/Pipe Machines
Tank Machines
Metal Processing Machines
Motor Making Machines
Welding Machines
Battery Machines
Metal Spinning & Flanging Mach
Textile Machine
Packing & Wrapping Machines
Heat Exchange Machines
Other Machinery
Fence Mesh Welding Machine
Description of fence mesh welding machine:
This machine is designed for welding fence mesh, which is used in rail, expressway, bridge, warehouse and buildings, etc.
This machine is comprised of wire pay-off stands, wire straightening device, welding head, woof wire feeding device, mesh pulling device and unloading rack.
According to different requirements, woof wire feeding can be continuous by wire reel, or automatic by wire rods.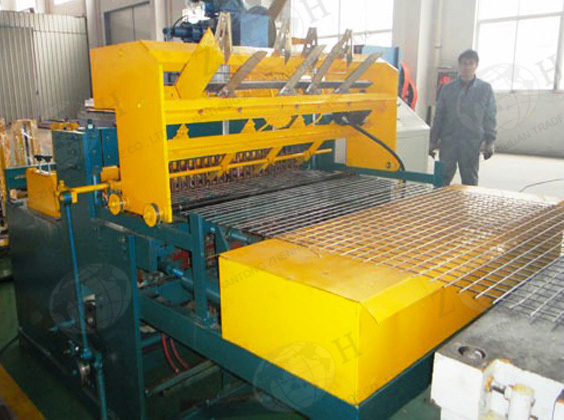 Main features of fence mesh welding machine:
-- PLC control, full automatic
-- Space between longitudes is pre-adjusted before welding
-- Space between each woof can be preset in the PLC

Main technical data of fence mesh welding machine:
| | |
| --- | --- |
| Item | Data |
| Suitable wire diameter | 2.5-6mm |
| Welding aperture | 25x25mm ~ 200x200mm |
| Width of fence mesh | Max. 2500mm |
| Length of fence mesh | Max. 5000mm |
| Number of welding spots | 48 |
| Welding speed | 30 times/min |
| Towing motor power | 4.0kW |
| Welding transformer capacity | 480kVA |
| PLC & inverter | World famous brand |
| Machine dimension | 8480 x 3160 x 1700mm (loaded in one 20' container) |
| Machine weight | About 4.2T |
Product display