Current Location : Home > Tank Machines
HVAC Duct Machines
Wire Bending Machines
Bra Making Machines
Tube/Pipe Machines
Tank Machines
Metal Processing Machines
Motor Making Machines
Welding Machines
Battery Machines
Metal Spinning & Flanging Mach
Textile Machine
Packing & Wrapping Machines
Heat Exchange Machines
Other Machinery
Dished End Flanging Machine
Description of dished end flanging machine:
This machine is developped from European and copied in China. It is comprised of two machines: drum pressing machine and flanging machine.
It can produce various kinds of dished ends, such as dished, tapered, spherical, big scale canister distortion forming.
The first step is drum pressing machine. The piston of main cylinder moves up and down to drive upper tool to press the raw plate to become required concave shape.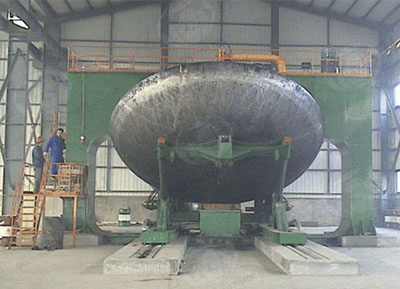 There is one manipulator mounted inside the frame. It will move, rotate and incline the workpiece, PLC control, full automatic.
The second step is flanging machine. Adopting spinning principle, this machine will make semi-product from drum machine into dished end, spherical end, flat-bottom or taper-bottom end and even semispherical shape, etc.
The structure is closed frame type, good rigidity. The spinning speed is stepless adjustable.

Dished end flanging machine for max. 10m dia dished ends working in our factory: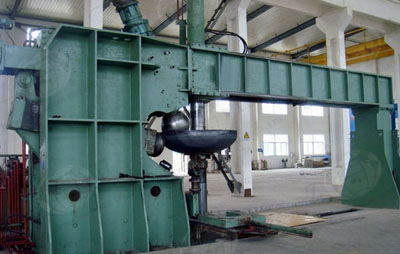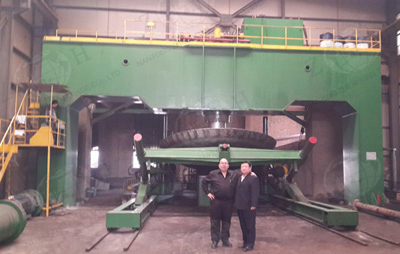 Main technical data of dished end flanging machine:
1) Dished end diameter range: 1m-10m (can be specially ordered)
2) Wall thickness of material: 4-40mm, carbon steel, by cold flanging; 10-80mm, carbon steel, by hot flanging.
3) Detailed configuration and parameters will be based on your exact dished end diameter and wall thickness.

Typical dished end types can be made by dished end flanging machine: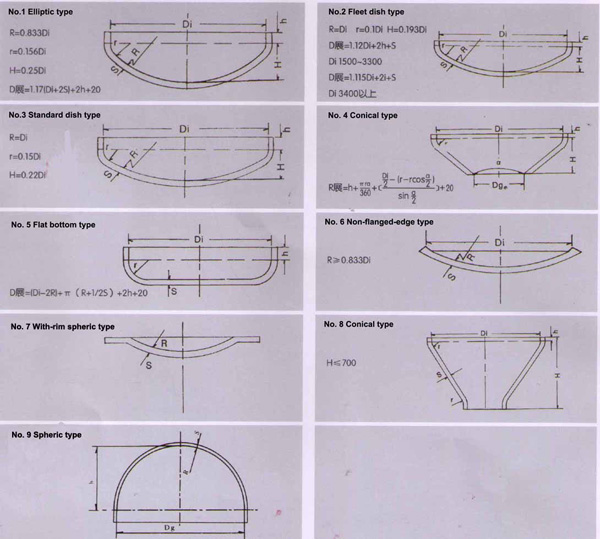 Typical dished end samples made by dished end flanging machine: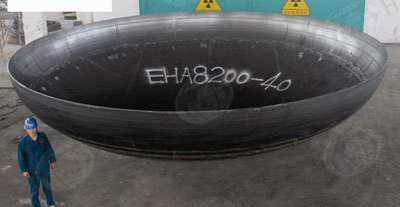 Product display