Current Location : Home > Other Machinery
HVAC Duct Machines
Wire Bending Machines
Bra Making Machines
Tube/Pipe Machines
Tank Machines
Metal Processing Machines
Motor Making Machines
Welding Machines
Battery Machines
Metal Spinning & Flanging Mach
Textile Machine
Packing & Wrapping Machines
Heat Exchange Machines
Other Machinery
Wheel Rim Making Machine
Description of wheel rim making machine:
To produce steel wheel rims for automotives, there need many different kind of machines. We can provide the complete production line for steel wheel rims.
I Wheel rim round bending machine: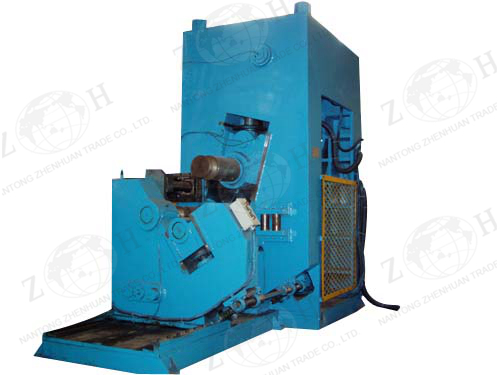 This machine is for bending steel plate into round shape as blank material for wheel rim. By adjusting bending rollers, different diameters can be achieved.
Main technical data of wheel rim roud bending machine:
| | |
| --- | --- |
| Item | Data |
| Suitable rim wall thickness | 2-6mm |
| Suitable rim width | 4-8" |
| Suitable rim diameter | 12-18" |
| Suitable steel material | carbon steel |
| Spindle speed | 55 rpm |
| Main driving motor power | 7.5kW |
| Spindle driving method | universal joint |
| Finished product ejecting | pneumatic |
| Material of rollers | 45# steel, hardened & tempered |
II Wheel rim flash butt welding machine:
This flash butt welding machine is for butt welding round part from above first step. It adopts flashing to heat workpiece and upsetting to finish welding.
Flash butt welding machine is hydraulic driven, stable and reliable.

Main technical data of wheel rim flash butt welding machine:
| | |
| --- | --- |
| Item | Data |
| Rated transformer capacity | 800kVA |
| Rated primary voltage | 380V |
| Suitable wheel rim section area | 400-4500mm2 |
| Suitable rim max. width | 500mm |
| Suitable rim min. width | 100mm |
| Welding speed | 0.8-30mm/min |
| Max. clamping force | 600KN |
| Max. upsetting force | 300KN |
| Jaw max. adjustment | 80mm |
| Adjustable voltage range | 7.6-14.6V |
| Hydraulic working pressure | 5-15MPa |
| Hydraulic pump motor power | 22kW |
| Cooling water pressure | 0.2MPa |
| Cooling water flow | ≥3000L/N |
| Duty cycle | 60% |
| Machine dimension | 2800x2000x2500mm |
| Machine weight | 15T |
III Wheel rim trimming machine
This wheel rim trimming machine is comprised of several units: scraping & planning machine, roll flattening machine and end cutting machine. It is manually loading and unloading on every machine.

Main technical data of wheel rim trimming machine:
| | |
| --- | --- |
| Item | Data |
| PLC | Omron from Japan |
| Touch screen | Delta from Taiwan |
| Buttons | Schneider |
| Electric control cabinet | assembling electric box |
| Sensor | imported from Japan |
| Lubricating pump | BIJUR dry oil pump from USA |
| Hydraulic station motor power | 45kW |
IV Wheel rim rolling machine
Wheel rim rolling machine is for final rolling and forming wheel rims. By changing moulds, different shaped wheel rims can be produced.
This machine is hydraulic driven, stable and reliable.

Main technical data of wheel rim rolling machine:
| | |
| --- | --- |
| Item | Data |
| Suitable wheel rim diameter | 12 ~ 18' |
| Suitable wheel rim width | 4~8' |
| Main shafts diameter | φ135mm |
| Main shafts length | 350mm |
| Main forming roller quantity | 2 |
| Guiding roller quantity | 2 |
| Side guiding shaft diameter | φ90 mm |
| Side guiding stroke | 200mm |
| Main shaft speed | 50~450 rpm |
| Max. distance between upper & lower main shafts | 362mm |
| Min. distance between upper & lower main shafts | 262mm |
| Main shafts adjustable tilt angle | 0 ~ 1.5° |
| Lower main shaft axial adjustable distance | ± 2 mm |
| Lower main shaft raising force | 10000kgf |
| Main shafts torque | 3850N·m |
| Hydraulic pump motor power | 68kW |
| Lubricating method | Compulsive central lubricating |
| Machine dimension | 2000 x 1600 x 1800mm |
Product display