Current Location : Home > Low voltage motor machines
HVAC Duct Machines
Wire Bending Machines
Bra Making Machines
Tube/Pipe Machines
Tank Machines
Metal Processing Machines
Motor Making Machines
Welding Machines
Battery Machines
Metal Spinning & Flanging Mach
Textile Machine
Packing & Wrapping Machines
Heat Exchange Machines
Other Machinery
Automatic stator rotor notching press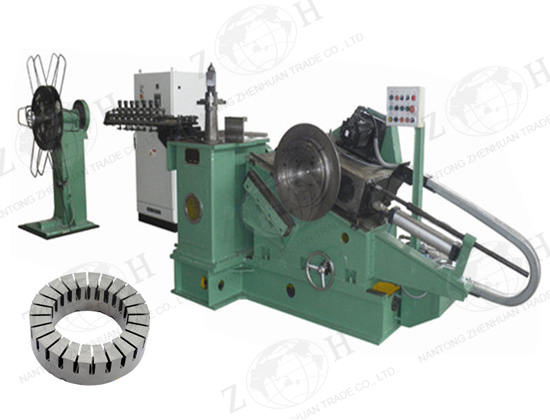 CNC Motor Notching Winding Machine
I Description of the machine
This machine is used for producing axial direction air gap disk motors.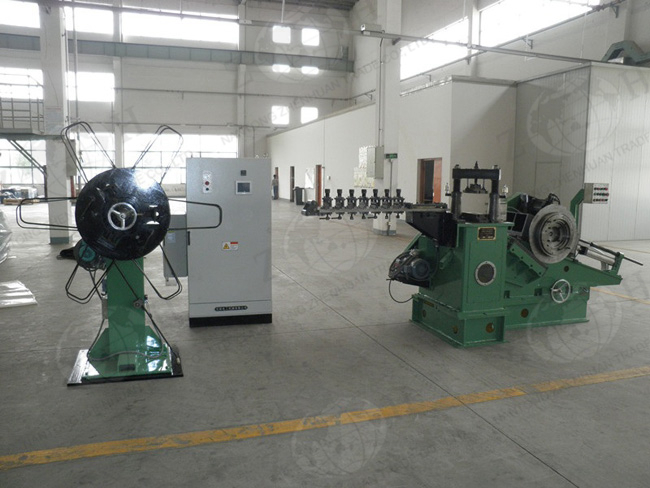 II Feature
1- Winding parts is consist of high-precision gear and the dedicated servo system (Siemens, Yaskawa, or Delta systems), with intelligent control and high precision.
2- Pressure machine is used of lower transmission press, small shaking and smooth operation.
3- Winding mechanism use randomized compensation, in order to promise grooved uniformity, because of thickness error.
4- HIM system- It can be set the numbers of grooves, no need change exchange gears.
5- Winding motor use Yaskawa servo motor, stable and reliable operation, stepless speed.
6- Failure warning and automatic diagnosis function.
7- This machine can add automatic welding equipment.
Component part of machines: Feeding section, sliding block section, lubricating section, winding section, machine body, gas circuit and electric section.

III Main technical data
Normal force

25kN

Max. thickness of punching

0.5mm

Max. number of slide stroke

300 times/min

Slide stroke

24mm

Max. closing height

195mm

The height of lower die

80mm

Suitable number of grooves

30-140

Width of strip

<80mm

ID of core

>90mm

OD of core

<260mm

ID of strip on pay-off stand

450-510mm

OD of strip on pay-off stand

1100mm

Working pressure of compressed air

0.6MPa

Motor power

1.5kW

Dimension (L x W x H)

6700 x 1600 x 1700mm

Video link

https://youtu.be/wyozOKXho3U




https://youtu.be/PLPMca6lcF0
Product display